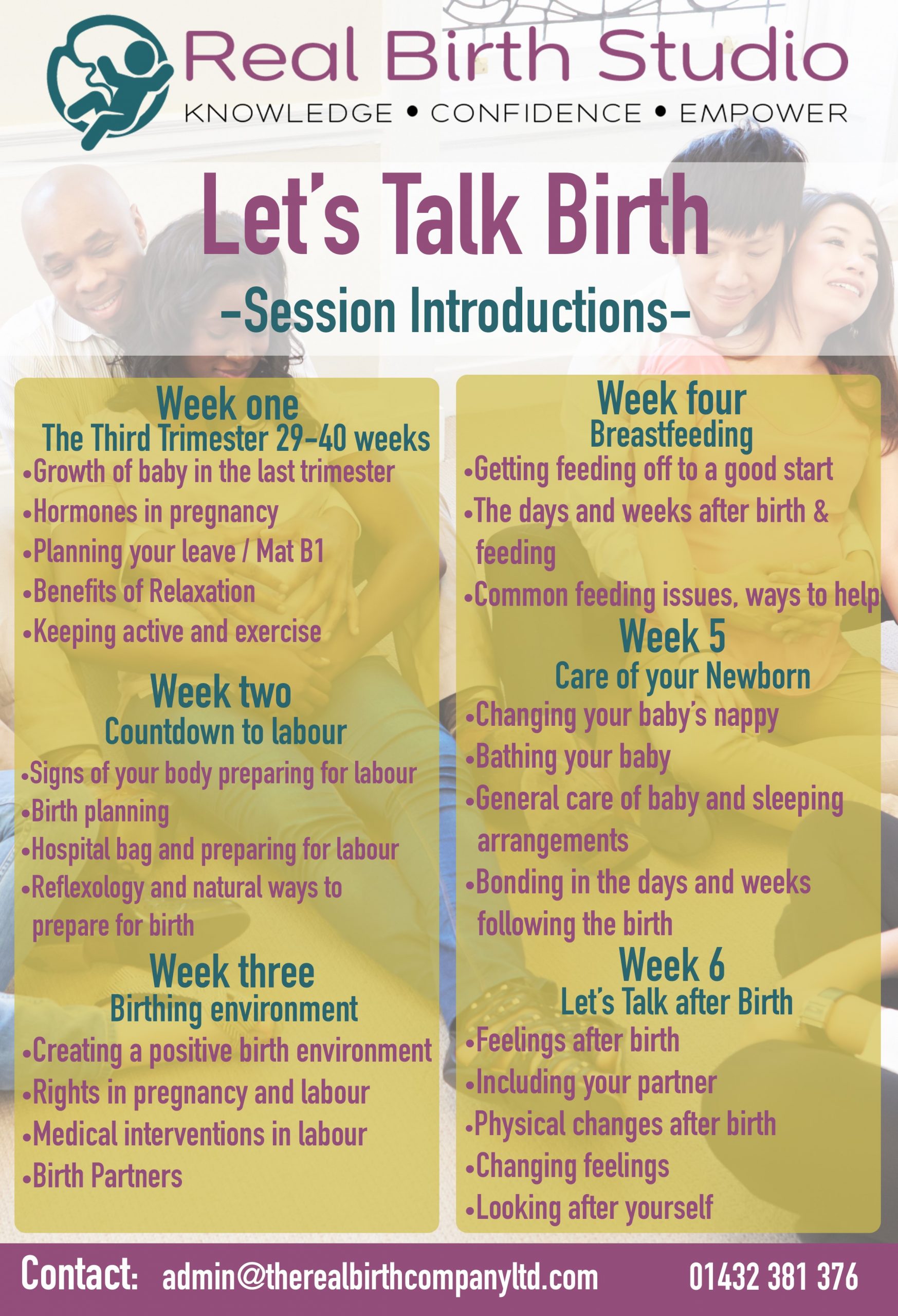 Wednesday evenings for 6 weeks covering various different antenatal topics:
Week 1 – The Third Trimester
Week 2 – Countdown to Labour
Week 3 – Birthing Environment, Right and Birth Partners
Week 4 – Breastfeeding
Week 5 – Care of a Newborn
Week 6 – Let's Talk After Birth
Our courses are also run by a midwife and Lactation Consultant.
Have you asked any of these questions?
What is an antenatal class? Can I exercise in pregnancy? What is a normal pregnancy weight gain?
Is sex in pregnancy ok? What to pack for a hospital birth? How will I know if labour has started?
What is labour?  I really want to know more about planning to birth at home or a hospital birth?
How do you breast feed a baby? Will my baby know how to breastfeed? What about bottle feeding?
How do you bath a baby? Change a nappy? What is rooming in? How will I feel after birth?
How will I feel as a new mum or new dad?
If you have, you are not on your own!
At the Real Birth Studio in Hereford we have developed our very own signature antenatal class 'Lets Talk Birth'. This is a 6 week antenatal class that answers all of these questions and more! Including things like observing baby's movements, pre birth bonding and much much more!
Our Let Talk Birth antenatal class can be taken by itself or included in a package with other courses such as The Real Birth Workshop, our signature birth preparation course like no other!
Lets Talk Birth antenatal classes have been designed to be shared with the same positive and evidence based information as the rest of our antenatal classes. Helping you to gain information that will help you make choices and decisions that are right for you.