In January The Real Birth Workshop will stop and Hypnobirthing will be separated. The last RBW will be on the 10th of December.
The Complete Real Birth Programme will be available from December the 20th please see classes and packages to book.
Please call the Studio for further details on these changes.
Real Birth Workshop
The Real Birth Workshop is a one day birth preparation class for you and your birth partner or partners. Lunch is included and also you will receive our digital antenatal course to go away with to refresh yourself on the course at any time. You will also receive our birth planning booklet and also access to the private Facebook group full of resources.
The Real Birth Workshop also includes breathing techniques, with positive affirmations for you and your birth partner, you will receive audio copies of these to practice at home.
So what is the Real Birth Workshop?
Finding out that you are pregnant often creates so many mixed feelings! Alongside excitement or joy you may be also feeling nervous or anxious, all of which are totally normal. Plus, what the media often shows us can be, quite frankly, terrifying. However, labour and birth are not always a screaming trauma. If you are looking for a factual and honest approach to labour, and birth preparation classes that help you feel reassured and knowledgeable about your birth choices, then we can help.
It is so important to have confidence in yourself and your body during pregnancy, labour and birth. We can help you to understand just how incredible your body is, and we present this information in a completely unique way that no one else does. Our trademarked way of teaching has feedback and results that positively show, it does help you to have more positive birth experience, less intervention in birth and feel more in control.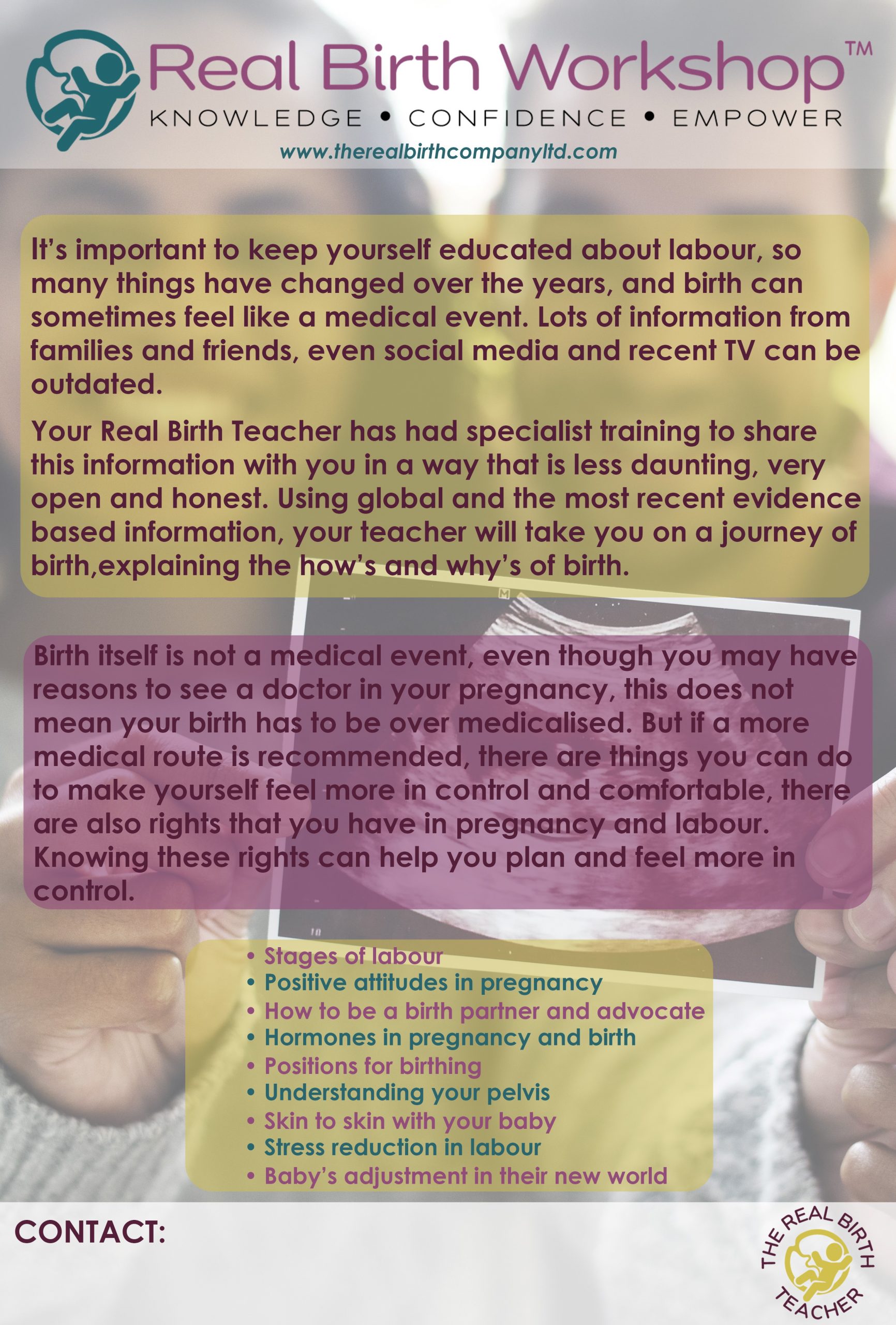 The Real Birth Workshop© is a birth physiology class, a class that helps you understand what happens to you and your baby during labour. You may be planning to give birth at home, in a birth centre or in a hospital, you may be midwifery or consultant led care, wherever you plan to give birth, your body is designed to work well. We help birth partners learn more about their role in labour and give them skills to help support you.
We help you understand your labouring body, where pain comes from and why it is there in most cases. When you understand these systems that work together, it will help you prepare for birth in any of these places and work with your body and likely help you feel more comfortable in labour.
We teach The Real Birth Workshop all around the country, to women and their birth partners, helping to promote choice, respect and dignity for your birth.
Amazing course! Really informative and has definitely prepared us for our new arrival. Couldn't recommend it enough. Thank you!
Hypnobirthing
After gaining a deep understanding of the physiology of birth during The Real Birth Workshop, which forms day 1 of our Hypnobirthing programme, these sessions are dedicated to learning and practising the gentle, and effective tools which Hypnobirthing offers you for labour and birth.
Over three dedicated Hypnobirthing sessions we look into the powerful use of language and words and how they can become tools for us to use in a positive way. Understanding how this affects the mind and body and in turn, can affect labour and birth. You will learn different breathing techniques alongside practicing deep relaxations during the classes and learn how the practice of Hypnobirthing can help towards having a calm, and positive birthing experience.
Does Hypnobirthing work?
There is limited research into hypnobirthing however it does for work some women but not others. There are lots of reasons why it is mixed. For example, if you have an induction of labour, the synthetic hormone has a different effect on your body, which you would learn all about in day 1 of the course.
A randomised study of 680 women funded by the NHS in 2013 didn't conclusively show that Hypnobirthing was effective or not, but Hypnobirthing has more to offer you than breathing and relaxation in childbirth. It helps you to work with your body to teach you deep levels of relaxation that you may not be used to doing in every day life. This helps to release positive chemicals into your body that help you relax. It helps to reframe your mindset about childbirth and because it is working with your subconscious during taught sessions, can help you feel positively about your birth and the choices you would like to make.
It is also really helpful postnatally, as it helps you with transition into parenthood. If you experience times of stress, you can use the techniques to become calmer and relaxed.
Relaxation
Hypnobirthing can help you manage the stress hormone adrenalin, which can reduce anxiety, which should then support you in having a calmer birth experience. Also, during your labour, a chemical called oxytocin is produced, which supports your labour to carry on. Stress hormones affect the production of oxytocin and make your labour longer. However, adrenalin also has a positive role in childbirth, and this is also important to learn about. In some cases, hypnobirthing has also been shown to make your labour shorter.
Visualisations
We will teach you visualisation techniques too. Visualisations are used to help you imagine the birth of your baby and what you want to happen during your birth. It could be something specific to you or images that we help you to visualise. Some examples are, you could picture what it will feel like to hold your baby skin to skin after they've been born or imagine yourself in a pool or birthing room during labour. These visualisations can help you to rehearse your birth, however it is also important to use these with birth planning tools, that you will receive in day 1 of the course, so that you can be prepared for other situations in childbirth too.
When you sign up to this programme you will be given a Hypnobirthing book, have access to handouts and MP3 audio downloads to support your practice at home.
Click on the button below so you can see stories created by families that used our classes to help them through their journey.
Click on the button below to pick a date for this class
Each set of classes starts with Real Birth Workshop. Please click on the Real Birth Workshop DATE you want to book.