Block Book 6 sessions – £48
'Pay as you go' Session – £10
Mondays – 5.45pm to 6.35pm
ABOUT ME…..
While practicing as a midwife in the 1980s and wishing to support women in preparing for natural birth, I was given a book called Active Birth, written by Janet Balaskas. It was based on yoga, and this marked the start of my yoga journey.
I trained as an Active Birth teacher with Janet and her colleagues, studying yoga based on the teachings of Vanda Scaravelli. It is a gentle, mindful yoga with the breath at its centre and therefore ideal for pregnant, labouring and post natal women.
Moving to Hereford in 2002 with four small children, I was fortunate enough to find Jenny Bullough, a teacher steeped in the teachings and yoga tradition of Krishnamacharya and his son TKV Desikachar. I found truth in the saying: 'when the student is ready, the teacher appears'. She guided me through my first introduction to this tradition and I felt as if I had found a yoga practice that truly made sense to me. Every movement is linked to the breath and therefore it feels as if the whole practice becomes a moving meditation, bringing mental attention, a calmness of mind, and clearer perception. Central to this tradition are the ancient texts of the Yogasutras of Patanjali, which are passed on from teacher to student.
For the last 13 years I have also been taught by Ranju Roy & Dave Charlton, completing their Sadhana Mala teacher- training programme as well as their Art of Individual Teaching. This enables me to teach one to one and work with people to develop their personal practice. I work in Hereford within a supportive and experienced group of viniyoga practitioners.  As I continue to study this vast subject, I find it a great honour to pass on what I can to anyone willing to learn.
I attend workshops, study days and retreats to deepen and expand my knowledge of yoga. Chanting the yogasutra and the veda have also become central to my practice. I  maintain an ongoing personal practice.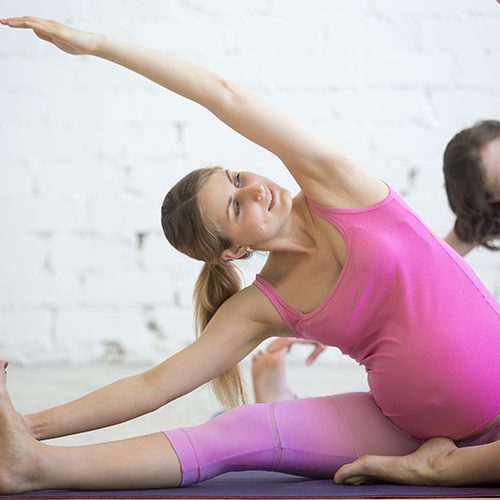 £10 – Pay As You Go
£48 – Block Booking of 6 sessions.
For studio enquiries please email: hello@therealbirthstudio.com
*Mats and props provided.