More About Me
Hi I'm Kath Nagler,
I have been a Midwife 20 years this year and I currently work as a Community Midwife in an NHS trust in Greater Manchester. I have gained experience and been privileged to be present at lots of beautiful births and made lots of memories in all areas of maternity services and this includes working overseas in Australia for 6 years.
I believe it is important to build relationships during pregnancy, providing relevant, evidenced based information that facilitates choice and control during pregnancy, birth, and early parenting.
As we are all life – long learners, I have continued my studies and expanded my expertise by becoming a Real Birth Company teacher. (FEDANT and RCM accredited)
This fits in with my ethos of providing relevant, positive and evidence- based information.
The focus is on birth physiology, how a woman's body works and the hormones and changes that happen to birth a baby and how we can help the body to work it's magic, but in a way that informs and empowers women to make positive choices during pregnancy and birth, helping to retain choice and control.
I am also a qualified Birth Trauma Resolution practitioner, (BTR) (RCM accredited) and offer time and a safe space to listen to your birth story and offer relaxation and techniques to treat and overcome traumatic birthing experiences.
I have a busy family. I am married to an amazing and tolerant husband who understands how midwives often disappear to a homebirth and rarely come home from work on time.
I'm a mum to 3 teenagers who have hectic social lives and require mum's taxi service!
In my spare time, I love live music and attend music festivals, gigs and theatre in Manchester.
Please visit my website for further information.
Testimonials
"Educational and felt like excellent preparation. Plenty of additional advice given for research."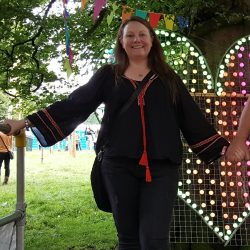 certified teacher
You can find The Real Birth Workshop all around the country, We have teachers offering face to face and virtual classes, helping to promote choice, respect and dignity for your birth.